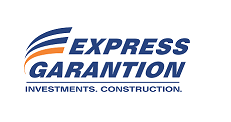 Express Garantion Ltd. is among the leading construction companies with extensive experience and established name in the market.
The company is a member of the Chamber of Builders in Bulgaria and holds a license for construction of all building categories.
The company started its operation in the town of Shumen back in 1990.
Over the past 25 years, Express Garantion Ltd. has built many sites of different types - public, residential, commercial, infrastructure, sports and industrial.